Which Harley Is Right For Me?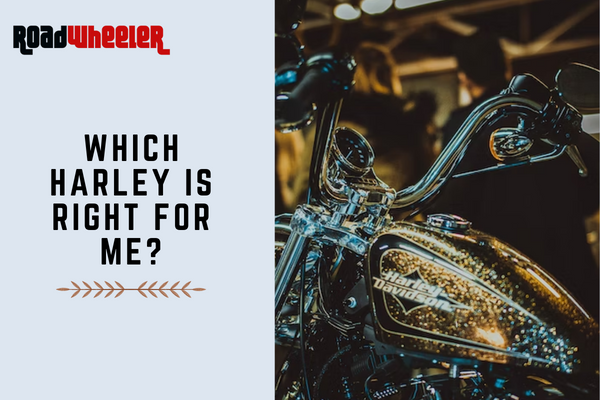 Harley-Davidson offers a wide range of motorcycles to suit every rider, from beginners to experienced riders.
So, which Harley is right for you? Here are some things to consider when choosing the perfect Harley for you. First, think about your riding style. Are you a casual rider or do you like to hit the open road and go on long rides?
If you're a casual rider, then a smaller bike like the Sportster might be right for you. But if you're looking for a bike that can handle long rides, then something like the Road King or Electra Glide would be better suited for you.
Next, consider your budget. Harley-Davidson bikes range in price from around $6,000 all the way up to $30,000 or more. So it's important to have a budget in mind before starting shopping.
Finally, think about what kind of features and amenities you want on your bike. Do you want a simple bike with just the basics, or do you want all the bells and whistles?
There's no wrong answer here – it's just personal preference. But knowing what you want will help narrow down your choices and make it easier to find the perfect Harley for you.
There are a lot of different Harley-Davidson motorcycles out there, so it can be tough to decide which one is right for you.
Here are a few things to consider when choosing a Harley:
What's your budget? Harleys range in price from around $5,000 to $30,000 or more, so you need to figure out how much you're willing or able to spend.
What size do you want? Harley makes everything from small bikes like the Sportster 883cc to huge touring bikes like the Road King. Think about how big (or small) you want your bike to be.
What style do you like? Do you want a traditional cruiser or something more modern like a Street or Sportster? There are plenty of different styles of Harley to choose from.
What kind of riding do you plan on doing? If you're mostly going to ride around town, a smaller bike might be fine. But if you're planning on long road trips, you'll probably want something larger and more comfortable.
Which Harley is Easiest to Ride?
The answer to this question depends on a number of factors, including your experience level and the type of riding you plan to do.
If you're a beginner, or if you plan to do mostly city riding, a smaller Harley like the Sportster might be a good choice. If you're an experienced rider who wants to hit the open road, a bigger bike like the Electra Glide might be more your style.
Ultimately, the best way to decide which Harley is right for you is to take them all for a test ride and see which one feels best.
What is the Most Comfortable Harley to Ride?
Harley-Davidson is known for its motorcycles that are comfortable to ride. The most comfortable Harley to ride is the Electra Glide Ultra Classic.
This motorcycle has a low good seat height and a wide variety of features that make it comfortable for long rides. It also has a fairing that protects the rider from wind and weather.
What is a Good Harley for a Small Guy?
There are a few things to consider when purchasing a Harley for a small guy. The first is the size of the bike. Harleys come in a variety of sizes, so it is important to find one that will fit the rider well.
The second thing to consider is the power of the motorcycle. Some smaller riders may feel more comfortable on a less powerful bike, while others may want something with more power. It is important to test-ride different bikes before making a decision to ensure that the rider feels comfortable and safe on the motorcycle.
What is the Best All around Harley-Davidson?
The best Harley-Davidson for all-around use is the Sportster. It is a versatile motorcycle that can be used for commuting, touring, and even racing. The Sportster has a powerful engine and good suspension, making it a great choice for riders who want a bike that can do it all.
Harley-Davidson Quiz
What do you know about Harley-Davidson? Take our quiz and find out!
1. What was the first year that Harley-Davidson was in business?
a. 1901 b. 1903 c. 1905
2. What is the name of the company that originally created Harley-Davidson motorcycles?
a. Indian Motorcycle Company
b. Excelsior Motor Company
c. Davidson Cycle Company
3. What are the three components of a Harley-Davidson motorcycle?
a. Engine, frame, and transmission
b. Brakes, clutch, and throttle c. Carburetor, ignition, and electrical system
4. Which of the following is NOT a type of Harley-Davidson motorcycle?
a. Cruiser
b. Sportster
c. Touring
d. Dirt bike
Best Harley-Davidson for Beginners
Harley-Davidson is one of the most popular motorcycle brands in the world. If you're thinking about purchasing your first Harley, you may be wondering which model is best for beginners.
Here are a few things to consider when choosing the best Harley-Davidson for beginners:
Budget – One of the most important things to consider when choosing any motorcycle is your budget. Harley-Davidson motorcycles can range in price from around $5,000 to over $30,000. It's important to choose a model that fits within your budget so that you don't end up with buyer's remorse later on.
Style – Another important thing to consider is what style of motorcycle you prefer. Harley-Davidson offers a wide variety of models, from cruiser bikes to sport bikes and everything in between. Think about what style of bike you want and then narrow down your choices from there.
Engine size – Another important factor to consider is engine size. Harley- Davidson offers engines ranging from 883cc all the way up to 1,890cc. It's important to choose an engine size that will be comfortable for you to handle based on your riding experience and skill level. Generally speaking, smaller engines are better for beginner riders while larger engines are better suited for experienced riders.
Weight – Another thing you'll want to keep in mind is weight. Some Harley models can weigh upwards of 800 lbs, which can be difficult for beginner riders to handle. If you're concerned about weight, opt for a lighter model such as the Sportster or Dyna.
Accessories – Lastly, don't forget about accessories! There are plenty of great accessories available for Harley-Davidson motorcycles, from saddlebags and windshields to audio systems and more. You can add these later on if desired, but it's always nice to have them included right from the start so that your bike is fully decked out and ready to ride Harley-Davidson.
Harley-Davidson, Inc. (NYSE: HOG, formerly HDI), or Harley, is an American motorcycle manufacturer founded in 1903 by William S. Harley and Arthur Davidson in Milwaukee, Wisconsin. It was one of two major American motorcycle manufacturers to survive the Great Depression, along with India.
The company has survived numerous ownership arrangements, subsidiary arrangements (e.g., Aermacchi 1960-1978 and Buell 1987-2009), periods of poor economic health and product quality, as well as intense global competition,[5] to become one of the world's largest motorcycle manufacturers[6] and an iconic brand is widely known for its loyal following.[7][8] There are owner clubs and events worldwide as well as a company-sponsored brand-focused museum.
Conclusion
If you're thinking about buying a Harley-Davidson, you might be wondering which one is right for you. There are a few things to consider when making your decision, including what kind of riding you'll be doing, your budget, and your personal preferences. The three main types of Harley-Davidson motorcycles are Sportsters, Touring bikes, and Dyna models.
Sportsters are the smallest and lightest of the bunch, making them good for city riding and beginners. Touring bikes are designed for long rides with plenty of storage space for luggage. Dyna models are middle-of-the-road in terms of size and weight, and they're popular among customizers.
Once you've decided on a general type of bike, you can start narrowing down your options by considering things like engine size (measured in cubic inches), transmission type (manual or automatic), and whether you want a bike with ABS brakes. You should also take a test ride before making your final decision.
With so many different Harley-Davidson models to choose from, there's sure to be one that's perfect for you. Just do your research and take a test ride before making your purchase.